13 Travel Bloggers You Should Be Following On Twitter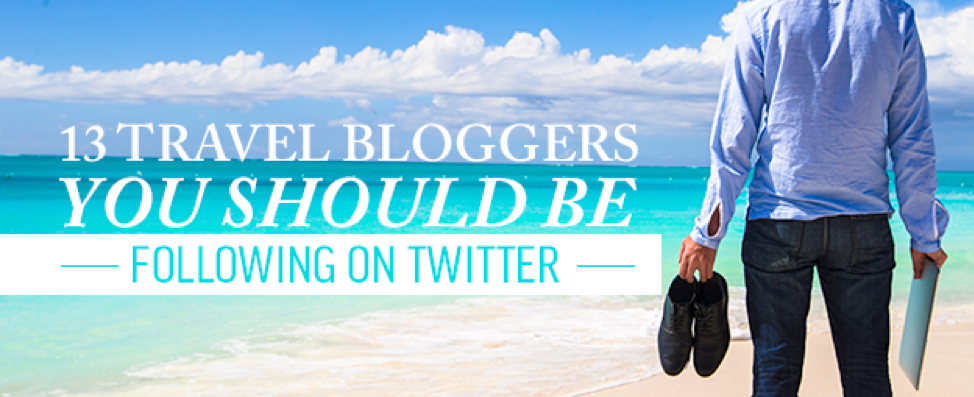 13 Travel Bloggers You Should Be Following On Twitter
Living abroad is an exciting experience, but it also stirs up a lot of questions. Whether you are studying, working, or interning abroad, it's important to know as much as you can about travelling and living in a foreign country.
Travel bloggers can provide you with valuable insight on all aspects of travelling, like budgeting your trip or fitting in with the local culture. For all the insider tips from the veterans who know, check out the top travel bloggers on Twitter. Follow them for news and updates to you help plan your exciting adventure abroad.
Independent Traveler
When you want to know what other travelers have seen and experienced abroad, visit Independent Traveler. This Twitter feed features beautiful images from around the world, as well as links to important travel hacks and news. From tips on finding secure Wi-Fi connections to advice on travel mistakes to avoid, Independent Traveler offers plenty of helpful insight.
Keith Jenkins
For a glimpse into luxury travel, visit Keith Jenkins on Twitter. Jenkins, founder and publisher of a luxury travel blog known as the Velvet Escape, tweets photos of places he's visited and posts articles on luxury travel destinations. Jenkins, who calls Amsterdam home, also takes time to reply to questions on his Twitter feed, so ask away!
Kristin Luna
Nashville-based journalist and travel writer Kristin Luna has a fun Twitter feed where she posts about her travel adventures. Luna inspires others to work toward their goal of combining a rewarding career with having plenty of opportunities to travel around the globe.
Brendan van Son
Armed with high-quality cameras and expertise in photography, journalist and professional travel photographer Brendan van Son gives you a chance to see stunning images from more than 80 countries. From the Galapagos Islands to Singapore, van Son shares amazing photos from his trips abroad.
Intrepid Travel
If you're interested in immersing yourself as much as possible into local culture while traveling, check out Intrepid Travel on Twitter. This travel company focuses on taking small groups of tourists on big adventures in a wide range of destinations. Intrepid Travel's Twitter feed is filled with vivid images from several countries, as well as tons of helpful travel content for would-be travelers.
Budget Travel
When you want to travel on limited funds, Budget Travel provides you with a Twitter feed full of tips on making your trip affordable. See the latest travel deals plus find out how to save money on flights, hotels, and more. Budget Travel shares all the inexpensive places to visit. Follow this feed on Twitter for exciting images of destinations around the world.
Gary Arndt
When you visit Gary Arndt's Twitter feed, be prepared to see breathtaking photos from more than 105 countries. Gary Arndt, recognized as Travel Photographer of the Year, posts gorgeous images from his travels and also provides practical travel tips on several destinations. From learning more about travel vaccinations to finding the best ways to get around the Hawaiian Islands, Arndt offers great advice for travelers everywhere.
Peter S. Greenberg
You won't find many images to admire on the Twitter feed of Peter S. Greenberg, but the CBS News Travel Editor makes up for it by offering an impressive range of travel tips. Greenberg provides advice on several aspects of travel, including picking up rental cars, checking the safety of pet carriers, being wary of hotel hospitality fees, and packing everything you need for air travel while staying under the 50-pound weight limit.
JD Andrews
Emmy award-winning JD Andrews provides a ton of great images and travel advice. Andrews, a videographer and photographer who has been to more than 95 countries, shares images and accounts of his globe-trotting adventures on his Twitter feed. From photos of markets in Cairo to puffins flying over the sea in Alaska, you can see incredible images of several exciting destinations.
Trisha Miller
If you're thinking of pursuing a career as a travel writer or just generally interested in the travel industry, Trisha Miller has the perfect Twitter feed to follow. Miller, Editor-in-Chief at Travel Writers Exchange, provides the latest travel news and posts valuable tips on building travel writing skills for journalists, bloggers, and writers. Miller has been part of the travel industry since 1996 and currently belongs to several travel organizations, including the Travel Writers Association and the Society of Professional Journalists.
Nomadic Samuel
As a professional travel blogger and YouTuber, Nomadic Samuel fills his Twitter feed with links to insightful travel content, along with the occasional image. From the top places to eat while traveling abroad to travel guides for a number of destinations, Nomadic Samuel makes it easy to get insider information for your next trip. The Canadian blogger also posts links to his informative travel-themed YouTube videos.
Dan and Moore
Dan Moore, a photographer and travel personality from Sydney, Australia, offers a fresh take on Twitter travel feeds. Moore's feed has a much quirkier and more down-to-earth tone than most, with photos of him on his many travels, along with personal thanks and other sentiments about his trips. His voice gives you a great feel of what it's like to travel to certain places and experience local cultures.
Trekaroo
For kid-friendly travel, San Francisco-based Trekaroo provides plenty of tips for traveling with kids and suggestions for family travel destinations. Find out the best ways to plan trips with kids and the ideal spots to go for family-friendly excitement. Trekaroo's Twitter feed also has a bunch of eye-catching images that will keep you coming back for more.
Follow Travel Bloggers For All The Best Travel Advice
Following the top travel bloggers will give you all the info you need when you're making travel plans or deciding where you want to go. Check their feeds often for new posts, so you don't miss out on the best travel photos, tips, and news.