About

Go

Abroad

CHINA

Go Abroad China is an organization that has been devoted to fostering international understanding through our Learn Chinese in China, and Internship in China programs for over a decade. Our company is one of the biggest Global Internship Placement and Chinese language teaching providers.
 China Internships

Programs
Summer, Gap Year & Business Internships
Take your future into your own hands with an internship abroad in China. You'll gain international work experience, build a global network of connections, learn Chinese, and get to know yourself all while exploring the vibrant sights, sounds, tastes, and experiences China has to Offer.
Learn Chinese

Programs
Short-Term Programs, Small group Language Programs:
Learn Chinese in enjoyable, immersive language classes with Go Abroad China. Choose from week-long, short-term, semester & year-long Chinese language programs for any age and level. Balance your studies with exciting cultural experiences, practice with locals and most of all, have fun.
Special Offer

Sign Up Today!
10
Days
15
Hours
16
Mins
49
Secs
See our latest special offers, scholarships and funding ideas to help you join the thousands of others that have changed their lives by living, working and studying in China!
Looking After You
All The Way
Go Abroad China is here to make sure you have a hassle-free stay. We arrange everything so you can simple come and enjoy the ride.
Visa Support
Click to Learn More
Featured
Go

Abroad

CHINA

Intern Positions
Why
People Choose

Go

Abroad

CHINA
4000
Participants in Our Programs
800+
Reputable Internship Host Companies
600+
Housing and Homestay Options
30
Staff on the Ground Supporting You
10,000+
Hours Chinese Classes Taught
The GoAbroadCHINA Guarantee
We want you to have an amazing time in China, one that is worth raving about. This is our promise to you:

Guaranteed Placement or Your Deposit Back
Experience China
As a Local
Whether you are taking part in our paid internships in China, or any of our China study abroad programs, volunteering, high school language etc, start your amazing experience with four easy steps: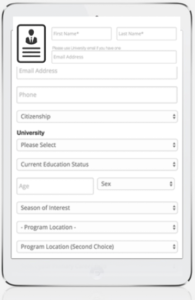 1 Apply online
2 Be Assessed
3 Confirmation
4 Get started!
Whether you are taking part in our paid internships in China, or any of our China study abroad programs, volunteering, high school language etc, start your amazing experience with GAC!
GAC provides support all the time so you could give them a call if you need something or something is not right. My host family is really nice to me. They take me out to the places on the weekends and make good food for me. Be sure to participate in excursions on weekend organized by GAC because they are really fun.
GAC is a good choice. Beijing is really a nice place to go out to have fun, to meet different people. Social life is pretty good and interesting after knowing locals and so many friends. For the first time I come to China without knowing anyone, GAC is a good choice.
GAC is the best way to experience China. I choose China, because everybody knows china's economic is really booming, i compared to many services, I found GAC service components are more suitable and offers more options for internships and the activities they have is more tailored for students. You really wanna stay more and you wanna explore different places. And the home-stay family is really really nice...
GOABROADCHINA service has been a fantastic experience. It gave me an insight into business in Asia and also it allowed me to learn a great deal about Chinese Culture. Right from the beginning which was organizing all the details of coming out here it was so easy they've really helped me out the whole way and if I have any questions they were so easy to approach and they answered me very clearly and quickly.
Nick's assessment and experience as an intern in China through GAC. Nick arrived in China through Go Abroad China's Internship Program. He was placed into a reputable multinational organization. This gave him the necessary exposure to practice finance with an international touch. During his period of as an intern, he was given a fair room to operate and that is the strong hold of our GAC internship programs.
Santos' rewarding experience in China through GAC. My internship experience was very good. It was very great experience.They asked me to work with them... If I have a problem, they were really happy to help me....My host family was also very good, because they bring me real Chinese culture. They took me as her child... I will recommend my partners to join your programs.
"I'm lovin' it !" said Commeron with GAC Internship Program. Commeron talked about his wonderful life experience in China through Go Abroad China's Internship Program. He took internship as a marketing assistant, lived in nice accommodation and enjoyed great weekend activities. He enjoyed the culture and language, and the friendship in China. "I really enjoy my experience. I'm love in it!"
Go

Abroad

CHINA

Recognition