Learn Chinese

at University / College

in China
What do you think the most spoken language in the world is? No, it's not English! Mandarin is the most spoken language in the world, with English not too far behind. This being the case, learning to speak Mandarin can open doors for you globally and make a positive impact on your career.
Study abroad at one of China's top universities, with all the arrangements taken care of for you, and learn Mandarin faster than you ever thought possible!
With Go Abroad China's university Mandarin Chinese courses, you get to study Chinese for credits at our partner universities/colleges, some of the best in China all while experiencing China like a local in one of our vibrant cities and complete your qualification. Studying Chinese in China will give you the chance to culturally explore some of the world's most diverse cities while developing your sense of independence (and you'll be able to transfer your credits to your current university once you're done).
You can choose to come and learn Chinese from a minimum of one week through to a 12 months or more, from beginner to advanced levels. Here's your first lesson: China in Mandarin is Zhongguo!
Study at university through Go Abroad China
and gain a fuller experience.
Our team will help and support you throughout the process; from your application through to visa support, planning your stay, organizing your accommodation, adding in cultural and social activities, ensuring you are safe, comfortable and looked after throughout your stay. Add in some extras like volunteering and internship, all organized for you. GAC are here to ensure you have a hassle-free and exciting time in China.
GAC's

Learn Chinese

at

University Program
Our university Chinese language courses are designed to immerse you in the Mandarin Chinese language, from classes to day-to-day living, helping you develop your language proficiency as fast as possible. For those of you who have a lower proficiency level, our accelerated teaching methods allow you to acquire the tools you need for effective oral communication within a relatively short period. Courses will include:
For the more advanced student, our courses will help you develop your proficiency with more complex Chinese expressions.
Our Chinese Language immersion programs integrate all aspects of the Chinese language: reading, writing, speaking, listening, grammar, phonetics, and vocabulary. We cover topics from daily situations, culture, and society to history and business so that you get to live the language. We use teachers who are highly experienced and professionally qualified Mandarin native speakers, with a university degree in Teaching Chinese as a Foreign Language.
Tailor your experience, and master the Chinese language in our exciting and comprehensive language immersion program… choose your preferred city, the length of time you want to study Chinese for, the type of accommodation you would prefer and even the time of year you'd like to come! You'll go home feeling like a whole new person – get to know yourself, study with and befriend other international students from across the globe, learn to think critically, gain global perspectives and open doors to a whole new future.
Combine your intensive Chinese language course with an Internship to gain invaluable work experience while you are here. Find out more about our internship programs.
Why come to
China
to learn Chinese?
Here are reasons why you should learn Mandarin Chinese, and more so, why you should come to China to learn it:
Experience one of the world's oldest civilizations juxtaposed with modern living; get immersed in the rich sights, sounds and flavors of China, they're unique!
Learn to speak the world's most spoken language faster than you ever could by learning at home (and get in loads of practice with the locals while you're here).
Challenge yourself and grow; develop critical thinking and confidence, learn to adapt, get to know yourself better, and develop skills that will stand you in good stead for the rest of your life.
Add an experience to your résumé that will make you stand out from the crowd. Both college and employers value the characteristics you have and develop as an international student and intern.
See some of the world's oldest buildings, meet endangered pandas, explore the vast regional areas of China that range from mountains to deserts, and get the chance to see record breaking bridges and futuristic architecture.
Make new friends for life that live all over the world (you may even have opportunities to visit them in their countries later on!).
Gain global perspectives from the world's largest exporter, get to understand international trade and how to do it well.
Many companies across the globe, especially multinational corporations either have a presence in China or do business with China. The demand for English/Mandarin Chinese speakers is high, but the number of people who are fluent in both is low. This opens up amazing opportunities for your future!
GAC organizes tailored Chinese learning experiences based on your needs, goals, and interests with internationally accredited institutions. Your program will include:
Extensive Curriculum
A balanced yet comprehensive curriculum integrating all aspects of the Chinese language: speaking, listening, writing, grammar, comprehensive Chinese, extensive and intensive reading (including reading newspapers), classical Chinese, Chinese culture, and Chinese affairs. These elements will vary slightly in intensity depending on your Chinese language proficiency and your level of study, i.e., standard or intensive.

There are a range of programs to choose from, from classes for complete beginners to classes for those who have studied Chinese before.

The Standard Chinese Language program has 20 hours per week; the Intensive Chinese Language program is 30 hours per week.

Our Language Exchange Program with native speakers ensures you get plenty of practice.

Classes are taught by Professors and instructors who are native Mandarin speakers with degrees in Chinese Teaching and experience spanning many years.

A variety of free electives to choose from
Free electives are included in the program. Electives can be language and non-language focused and are based on your Mandarin proficiency level and the program selected. These electives can  include:

  Chinese History
 Business Chinese
 Introduction to Chinese Characters
 Mandarin Proficiency
 Chinese Film
 Chinese Calligraphy & Painting
Chinese Fashion Terms
Chinese songs
 HSK lessons
 Tai Chi
 Chinese Martial Arts
 Chinese Erhu.

Choose how long you would like to study
Various course lengths for you to choose from:

 Short-term program: 4 to 12 weeks.
 Long-term program: a semester or full academic year.

Free social and Cultural Activities
The GAC Chinese program includes cultural activities, social events, and guided tours designed to broaden your Chinese language skills and cultural awareness.
Make a difference to the community
GAC offers you the opportunity to enhance your time with us by making a positive impact on the community through volunteering. Have a chance to help out through a range of meaningful community support and volunteering positions. Go home feeling proud that you've improved the lives of others.
Around the clock support from GAC
Our team is here to help you out 24/7 with any assistance you may need whether it's day-to-day support or support relating to your studies or internship.
A Day in the Life:

Living in

China
Depending on your class intensity (standard or intensive) and the university, your typical day will usually include between four to six hours of Chinese classes. You'll also get homework that can take up to two hours to complete; this usually consists of revision and practicing your Chinese characters. A typical day for our students is:
Start the day at school or university
Wander around the city and explore over lunch
Take part in cultural classes set to your level of capability
Complete homework
Enjoy a cultural activity and learn more about China
Plan my next activities and spend time with my personal tutor
Relax and chill with a host family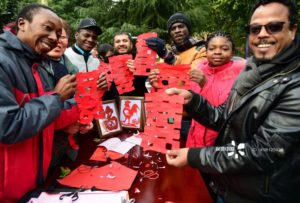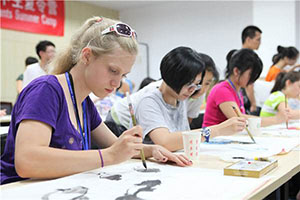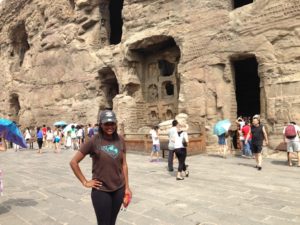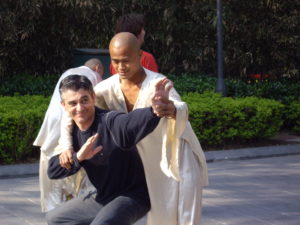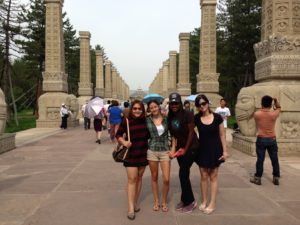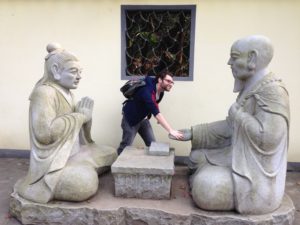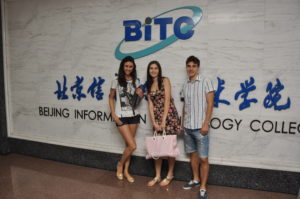 Learn Chinese
in China's
Top Universities
Learn Chinese at University:

Course options
Choose by city

Beijing

Prepare yourself for endless adventures in the exciting city of Beijing, China, where you never know which century you'll be approaching around each corner and business is booming.

Shanghai

Lose yourself in the excitement of China's largest city where you can  experience living in a vibrant city while studying abroad in a competitive, fast-paced environment.

Nanjing

Experience ancient history for yourself in the home of the Ming Dynasty in Nanjing, the second fastest growing commercial area in Eastern China, right after Shanghai.

Shenzhen

Come and see some of the world's most modern buildings, shop till you drop, and the home to many tourist attractions like the 'Window of the World', home to the replica of the Eiffel Tower.

Tianjin

Charming European styled Tianjin is a large, booming city offering a mix of laid-back living, history and beauty. Tianjin is a vital gateway to the sea for Beijing, which is only a day trip away.

Choose by season
Choose by the length of study
By program goal
Seasons
Choose by city

Summer Chinese Programs
Fall Programs
Winter Language Programs
For the adventurous soul, Go Abroad China offers a range of outstanding summer programs. Meet people from all over the world, make friends for life, explore the sights and sounds of China's rich and diverse culture, see futuristic buildings contrasted with ancient history, and gain outstanding new language skills while you're at it! Find out more >

Choose by season
Choose by the length of study
By program goal
For the rest of the Seasons section:
Fall Programs:
Autumn is a mild weathered time in China, it's a time rich with colour. Lasting from mid-October to early November, Fall is a great time to come and see our cities, enjoy the autumn festivals and enjoy our immersive short-term language programs which will have you speaking Mandarin faster than you ever believed was possible.
Winter Language Programs
Winter in China is an experience not to be missed; the hustle and bustle of the Chinese holiday period - ending in the EPIC Spring Festival – is something else. Play on the awesome frozen Houhai Lake, eat bounteous amounts of dumplings and learn remarkable new language skills while you're at it, gain a competitive edge in the job market, visit the ancient temples, make friends from all over the world. Find out more >
Length of study
Choose by city

Short-Term Program
Semester Programs
Gap Year Abroad
Customized length
Love the idea of travelling to China and learning to speak Chinese, but nervous about spending more than a few weeks here? We have a wide range of Chinese Language program options for you ranging from four to 12 weeks, suited to a wide range of budgets. Programs run throughout the year. Find out more >

Choose by season
Choose by the length of study
By program goal
Semester Programs
What better way to spend a Semester than learning a new language in another country (and earning credits for your efforts)? Spend a semester abroad that will change your life. Experience the rich sights, sounds and flavors of China, one of the world's oldest civilizations where ancient China mingles with modern living. You never know what you'll find around the next corner! Find out more >
Gap Year Abroad
Sometimes we simply need some time away, a year maybe or even just a semester. A gap between high school and college or university, or a break halfway through intensive studies, or if you don't know what to do next. Taking a gap year in China can be the perfect solution! You can join students from across the world in an unrivalled Gap Year Program and discover the world, grow in confidence and independence, learn Chinese, and add something to your portfolio of life that will stand you in good stead in the future. Find out more >
Program goal
Choose by city

Basic
Intermediate
Advanced
HSK Preparation
Business Chinese
For students who haven't started learning Mandarin yet, or have just started learning. The Basic Chinese level will help familiarize you with the basic Mandarin language. You will learn basic pronunciations, tones, and rules and start gaining a vocabulary of Chinese words. You'll learn enough to be able to hold basic conversations in Mandarin to hold short conversations and express yourself in day-to-day or business situations. You'll also learn some simple Chinese characters and some Chinese culture.

Choose by season
Choose by the length of study
By program goal
Intermediate
For students who already have a basic grasp of Mandarin. The intermediate Chinese class level is for those who would like to advance their Mandarin proficiency, so they are better at reading Chinese, speaking Chinese and writing Chinese. In this level, you improve your ability to differentiate between the four tones, further review Mandarin phonetic symbols and characters and examine basic sentence structures with regard to application and appropriate use. You will expand on your sentence structures and enlarge your vocabulary, further improving your ability to easily participate in short conversations at work or during daily activities.
Advanced
For people who have intermediate proficiency in Mandarin, but want to advance their skills, especially for business use. In the advanced level, you will improve your comprehensive through improved listening, reading, writing and oral skills. You will add idiomatic expressions, complex sentence structures, complex language patterns and topic-specific vocabulary to your repertoire. Your language proficiency will become more sophisticated, enabling you to communicate in-depth on a wide range of business and social topics and express your opinions.
HSK Preparation
The HSK, known as "Hanyu Shuiping Kaoshi" in Chinese, is the standard Chinese Language Proficiency Test for non-native Chinese speakers, such as foreigners and overseas Chinese. The primary objective of the HSK is to evaluate the level of standard Mandarin that one has learned.
Business Chinese
For professionals who already have a sound knowledge of Mandarin, but who'd like to enhance their proficiency in Mandarin specifically for business settings, or who are looking for a curriculum based on business Mandarin. In this class, your language course material is customized to your business goals, enabling you to be able to use Mandarin for your business area, including specialized vocabulary. The Chinese lessons are designed for business people within any industry who need Chinese for work. Lessons could include, for example, vocabulary for meetings, negotiations, and presentations, legal vocabulary, financial vocabulary or Mandarin for business correspondence.
Can I receive
university/college credit points

for work completed on my Mandarin course?
Go Abroad China places will place you in an internationally accredited university; therefore most universities outside China accept these credit points. Most of the GAC past participants have successfully transferred the credits that they earned here to their original universities in their own country. Go Abroad China will assist you in transferring your credit points too, as long as you comply with each university's pass rates and points. It's important to double check with your destination university about credit transferal options and requirements.
Transferring to an international university in another country can be a complicated process. Making sure you have everything sorted, from choosing the right place to study to transferring credits, organizing visas and getting around can do your head in. Go Abroad China is here to make the process as smooth as possible; we'll handle all the details and ensure your stay in China is memorable for the right reasons! GAC can make sure you get into the university of your choice, organize all the details for you, help you with your visa and arrange the little extras that make the experience worthwhile! GAC arranges affordable, accredited and quality Chinese language programs. We've placed thousands of happy students and would love to do the same for you. With GAC you get:
Orientation and Welcome Support and Activities
Cultural and Outdoor Experiences
Certificate and Course Credits
Why Choose
Go Abroad China's Chinese Programs
Internationally recognized language programs
GAC partner with the top universities in China to provide you with internationally recognized language classes that accelerate your mastery of the Chinese language. Learn together with fellow students, business people and expats from across the world. Classes can be supplemented with one-on-one tutoring or additional small group classes. Students can choose a standard 20-hour study week or an intensive 30-hour study week. Classes are taught by qualified and experienced teachers who are bilingual, comprehensively trained, and who have years of Chinese teaching experience.
A Choice of Destinations
GAC offer programs in a number of Chinese cities, giving you the chance to choose the type of experience you would like. Join us in Beijing or Shanghai for the hustle and bustle of a modern city, or go for something quieter in Nanjing, Dalian is great for those that love history while Hangzhou is perfect for those who love natural beauty. We have something for everyone.
Experience all China has to offer
GAC programs include a range of activities to keep you busy exploring and getting to know new people. From visits to the top historical landmarks such as The Great Wall, The Forbidden City or The Pagoda, to social activities and adventure outings such as hiking or rock climbing. Experience the culture through cultural activities such as calligraphy, Kung Fu, Thai Chi or local cooking classes (and more). Meet the locals and practice your Mandarin while you live amongst them, and while you're at it you may just get to learn the local lingo!
Comprehensive packages that are value for money
Our packages include many of the extras our competitors charge extra for. Your packages include everything you need to enjoy your stay and feel hassle-free; from pre-departure support to visa documentation, insurance and medical aid, orientation, social and cultural activities and more.
Around the clock support
The GAC team are here to support you throughout your experience, from helping you through your application to 24/7 daily support during your stay here in China and even once you're home through our Alumni team. Our goal is to ensure that we've taken care of everything so you have a hassle-free stay.
Customize your experience
As one of the few comprehensive China program providers, we can mix and match the main components of our programs to tailor your stay to match your interests, goals and studies. Combine language studies with additional classes at university, add additional Mandarin classes to extend your learning, take an internship, see China by adding in some extra trips or make a meaningful contribution by volunteering. Come any time of year for any duration, we'll make it work for you!
Example Course Curriculum
For undergraduates or older high school students who would like to have an in-depth understanding of China and the World.
Age requirements:
18-40
Choose from up to
21 modules
Credits: 2
per module, 1.5 for Chinese language Main modules available across semester A and B 2018:
Arts of Chinese and Traditional Performance
Asia Pacific Security
China in the Global Economy
China's Original International Strategy: the Belt and Road Initiatives
Chinese Folklore and Culture
Chinese Traditional Body Exercise, Diet and Health Preservation
Chinese Traditional Identity and Its Transformation after 1949
Classical Chinese Poetry
Culture, Behavior and Brain
Environmental China: Nature, Culture and Development
Heritage, Tourism and Globalization
International Human Resource Management: West, East, and the Emerging Markets
Introduction to Chinese Economy
Modern Chinese Fiction through Film
The Rise of China and Change in World Politics
Transition and Public Policy in China
Understanding China: From Its Media, Communication and Culture
For 3rd & 4th year and graduate students who would like to enhance and expand their academic training and achievements.
Choose from up to
19 modules
Credits:
2 per module, 1.5 for Chinese language
Main modules available across semester A and B 2018:
The Challenge of Change - Chinese Politics and Public Policy
Chinese Constitutional & Administrative Law
Remediation of Contaminated Environment
China's Original International Strategy: the Belt and Road Initiatives
Culture, Behavior and Brain
Entrepreneurial China
The Global Images of China
For students who would like to dive deeper into the latest scientific and technological developments.
Credits:
2 per module, 1.5 for Chinese language
Main modules available across semester A and B 2018:
Becoming a Medtech Entrepreneur -- What is Bio design?
Biometric Authentication: System and Application
Compact Data Structures for Big Data
Computation, Economics and Data Science
Computational Game Theory
Computational Social Science
Computer Ethics
Data Management for Big Data Analytics
Deep Learning
Design Informatics
Economics and Computation
Foundations of Big Data Systems
Fundamentals of Artificial Intelligence
Health Informatics — Big Data Approach
Machine Learning for Time Series Analysis – Statistical Models and Deep Learning
Machine Learning in Computer Vision
Probabilistic Models for Structured Data
What's Included
in a
GAC Language Program?
At GAC, our primary aim is to make sure your stay in China is as smooth and hassle-free as possible. Over time we've found that our students ultimately become our friends. Our programs can easily be customized to suit your needs. Whether you want to come and learn Chinese and study in China for a  few weeks, over winter or summer, for a semester or an academic year, Go Abroad China have a program for you. If you still have questions or want to know more, why not contact us? Our team is here to help you every step of the way. Your program fee includes the following:
Pre-arrival Support & Visa
Chinese language classes are the primary focus of our China immersion program. Our programs have been developed to help you learn as fast and effectively as possible, so by the time you leave, you've improved your proficiency and can carry out a simple conversation in Chinese, and have a sound understanding of the Chinese culture. The course usually includes 20 hours of language classes each week and cover the intricacies of speaking, writing and reading. All GAC Language and Internship programs include the courses, textbooks, and electives chosen with no out of pocket study expenses.
Programs can start at any time and run throughout the year, inquire now to find out what programs are available for your preferred dates. Fees will be based on the final package components selected. We want everyone to have the chance to live and study in China; to make this possible we have a range of financial options available to support students who cannot afford full fees.
Contact us
today to discuss dates, promotions, full, and partial sponsorship opportunities.
We offer three different housing accommodation options. The accommodation fee is already included in the program cost and is guaranteed for the duration of the student's stay in China.
We understand your concern for your safety while in China and we take this very seriously. Our team have many years' experience in working with and supporting you. Safety and security form part of our policies and we provide full support throughout the program (24/7); including travel and living arrangements, visa documentation, pre-departure guide, airport transfers, orientation, study materials, familiarizing you with your university or language school and surroundings, and bilingual program coordinators.
To ensure that students and parents understand how the program works, what they can expect, so you understand the rules, regulations, city hazards, school rules and receive a cultural briefing, we organize orientation sessions. A parent session is available prior to students departing, while students take part in a group orientation once they arrive in China. Students will also be supplied with a welcome pack with necessary information and goodies they need for their stay.
Interactive workshops, group seminars, and discussions are included in the package. These workshops and seminars have been developed to help our participants get well-acquainted life in China, things to expect, components of Chinese culture such as music, art, shows or performances, traditional food, calligraphy, Tai Chi and more.
Chinese language classes are the primary focus of our China immersion program. Our programs have been developed to help you learn as fast and effectively as possible, so by the time you leave, you've improved your proficiency and can carry out a simple conversation in Chinese, and have a sound understanding of the Chinese culture. The course usually includes 20 hours of language classes each week and cover the intricacies of speaking, writing and reading. All GAC Language and Internship programs include the courses, textbooks, and electives chosen with no out of pocket study expenses.
City Tours and Excursions
We organize trips to famous and fascinating historical sites such as The Great Wall, Summer Palace, Temple of Heaven and many more. In addition to these tourist sites, we organize trips to Chinese schools, universities, business enterprises and the countryside to let students enjoy all the aspects of the region they are staying in. Social activities are also included, enabling students to get to know their fellow participants and make friends for life.
Our programs are available at a number of Chinese Cities and are run in conjunction with China's Top Universities. The most popular destinations are Beijing and Shanghai, however, other cities also have much to offer. Talk to our coordinators about where you would like to stay while you are here.
Our service package covers all the day-to-day needs from visa support documentation to insurances and medical aid membership. We understand you need to know you will be safe and looked after while here and that should anything happen, they will have the best medical care. Our team work hard to ensure that these situations do not arise and ensure we understand any health requirements you may have before you arrive. We work hard to ensure all our policies are up to the expected standards. You can be assured that we'll look after you.
To enhance your learning experience in China, we have a selection of community projects and volunteering opportunities available. These include helping out at a local hospice, orphanages or poorer schools that need additional support.
Language Exchange Program
Living in China is a great way to speed up your learning experience, enabling you to engage with roommates and neighbors, develop great new friendships and learn outside the classroom. Our programs include the opportunity for language exchange with a native Mandarin speaker to help accelerate your learning experience through practice.
Four Easy Steps
to Learning Chinese
in China
Step one: Apply online
Once you have an idea about where, when and for how long you want to learn Chinese in China, complete our online application form to get the ball rolling.
Step two: Assessment
To make sure we know what you want from your Chinese learning experience – why you want to study abroad, what you want to achieve, where and for how long you'd like to stay – we'll organize a 15 minute Skype interview with you. From this, we can make sure we tailor the right Learn Chinese Package for you. We'll also know if this is the right program for you. Within two to three days after the interview, the coordinator will be in touch by email to let you know if your application has been successful. If so, we'll send you a formal offer.
Step three: Confirmation
To confirm your placement in our program, you'll need to reply to our letter of offer and pay your agreed deposit. Once this has been done, we'll send you all the documents you need: your contract and all the required documents for your study visa application as well as your pre-departure package. The pre-departure package contains all the information you'll need regarding your trip including where you'll stay.
Step Four: Start your Chinese study experience
Once your flights have been booked, let us know your arrival details (date and time, flight number) so that we can organize airport pick-up. We'll be excited to welcome you to our program in person!
Our support doesn't end when you arrive. We are as dedicated to ensuring you have around the clock support for the duration of your stay as we do in getting you here. Your journey will include your paid internship, accommodation, language courses, cultural experiences, tours, and networking.
What are you waiting for? Apply online now!
Learn Chinese the fastest way in an immersive and culturally rich experience which will fast track your learning experience. Have all your needs taken care of and broaden your horizons, be more independent and make friends for life!
Promotions & Financial Aid
We want everyone to have the chance to live and study in China; to make this possible we have a range of financial options available to support students who cannot afford full fees. Contact us today to discuss promotions, full and partial sponsorship opportunities.
Our prices range from US$3,280 to US$11,480 depending on your accommodation and length of stay.