7 Things You Can Do That Will Make You More Hirable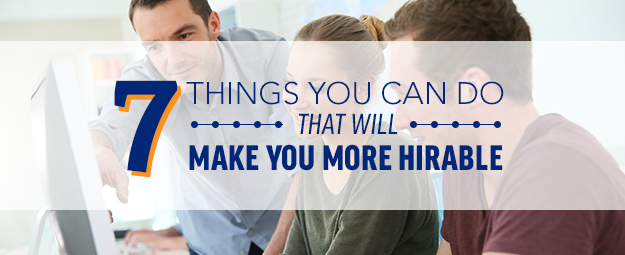 Becoming a top candidate for the job you want is tough. The job market is tight and competition is fierce. However, there are several steps you can take to make yourself more competitive and more likely to be hired. By strategically positioning yourself and accumulating relevant experience, you can successfully stand out from the crowd. Learn the seven top ways you can show potential employers that you are a well-rounded, serious contender for their team.
Internships
If you are just starting your career, internships are a great way to gain experience in your field. They are also one of the most important items of consideration to get you in the door. In a study of hundreds of employers conducted by the Chronicle of Higher Education, internships were rated the most important attribute in considering recent graduates for jobs.
Completing an internship shows employers you have solid work experience in your field and dedication to pursuing a career. Taken one step further, if you complete an internship abroad, you show employers you have experience with other cultures, a "go-getter" attitude, and adaptable qualities to work in unfamiliar environments. Internships are a great way to set yourself up for success.
Volunteer
Employers are increasingly interested in job candidates who are active in volunteerism. Volunteering is a great way to increase your chances of employment, and it also helps make your community a better place. Volunteer opportunities can range from small to large commitments, but any amount of effort is helpful.
If you're interested in a substantial volunteer experience, consider volunteering abroad. Spending time volunteering in a different country is a great way to learn about new cultures and interact with local people while gaining valuable experience and making a positive contribution. VolunteerMatch is also a great resource to find opportunities in your area. No matter what your skill level or interest, there are plenty of ways to volunteer.
Extra-Curricular Activities
It doesn't matter what type of extra-curricular activities you participate in, as long as they show who you are as a person and what you are passionate about. Whether it's sports, art, or something related to your chosen field, these activities show that you can communicate and build solid relationships with others. Extra-curricular activities also demonstrate that you are dedicated to the things you care about, and that is a positive trait employers love to see.
Craft Your Resume
Your resume is important because it's your first impression with the hiring manager, so make it count! Take the time to learn how to write a powerful, compelling resume. Learn the ropes by reviewing professionally written resumes, attending a resume writing class or seminar, and having your resume critiqued.
If you want to take it a step further, learn how to ace your interview. Enlist your friends, classmates, and/or family members to practice with you until you have excellent answers for every possible question. Practicing will also build your confidence, which will help you relax in interviews and let your personality shine through.
Create a Personal Website
In today's online world, a personal website may be even better than a resume. Although resumes are still the standard accepted fare for job applications, a personal website goes above and beyond to showcase your experience and skills in ways a resume falls short.
Your website can include more information about you written in a more personal style. The design can be colorful, bright, and unique. You can also include a portfolio of your best work, recommendations from colleagues, and links to professional social media profiles.
When you have a personal website, your prospective employer can become more familiar with you and your work before the interview. You'll have so much more to talk about! Don't forget to include the link on your resume for employers to check out.
Get Published
Being published may sound intimidating at first, but if you're willing to put in the work, it can be a game changer in getting hired. If you already know what field you want to work in and you already know a few things about it, you should find a blog that will let you write a guest article. Make sure you do your homework about the kinds of articles the blog publishes and of course, do your best work in writing the piece. If you can get an article published in your field, not only will you have added valuable work to your portfolio, but you are already on your way to becoming a recognized leader in your industry. You can do this even before you're out of school!
Clean up Your Social Media Accounts
The first thing the vast majority of employers will do before they invite you to interview is Google your name. If the results are unflattering, it's unlikely you will get a call. You can protect your professional reputation online by cleaning up your social media accounts. It's best to avoid posting unflattering pictures and updates, but if you have, remove them as soon as possible. Additionally, make sure your LinkedIn profile is complete, up to date, and contains any skills, accreditations, and awards you have.
Set Yourself Up For Success
The competition for great jobs may be intense, but it will be no match for you if you follow these strategies. You will put yourself miles ahead of others who don't take the time to position themselves for success. No matter what your industry may be, demonstrating your experience, skills, and passion can help you grab the dream job you've always wanted.