The Introvert's Guide to Socializing in an Unfamiliar City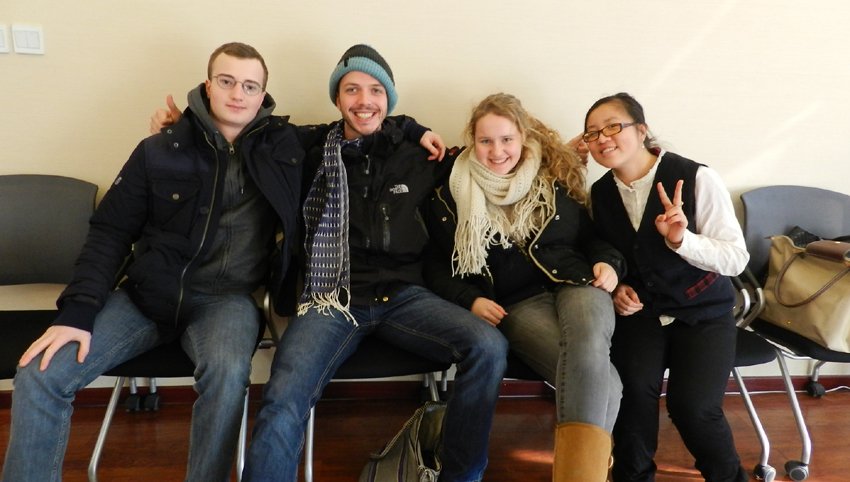 Introverts come in all shapes and sizes, but they tend to have a few things in common. If you're anything like me, you have a small but close group of friends and it can be a challenge for you to meet new people. In fact, socializing for long periods of time with strangers can feel almost physically exhausting.
It is a common misconception that introverts don't like socializing. While it is true that we need our alone time, we get lonely just like anyone else. When preparing to spend a few days or even a few months in a new city, it's important to think ahead of time about what you're going to do to make sure you don't spend the whole time alone. Follow these tips to make socializing in an unfamiliar city feel a little less intimidating.
Just Say Yes
Being an introvert, there is one thing I am very good at (and if you're reading this, you probably are too): Making up excuses to get out of going to things on the fly. I can't tell you the number of times I've been invited to a party only to suddenly remember an emergency tooth cleaning, eye contact fitting, or other made-up conflict that prevents me from attending.
While this might be good tactic for getting out of having dinner with that one annoying friend who's obsessed with her cats, it's not a good way to meet people in a new city. Next time someone invites you somewhere while travelling, take a chance and just say yes.
Reach Out Beforehand
It can be hard to meet someone naturally as an introvert. I have a hard time walking up to a stranger that I may have nothing in common with. One strategy is using people you already know to make introductions beforehand.
A few weeks before you leave for an extended stay, reach out to your current friend group and see if they know anyone in your new locale. You'll already have something in common with them and you can reach out via email or social media before you arrive to let them know you want to meet up.
Use the Internet!
Luckily for everyone reading this article, we live in a world where we have the power of the internet at our fingertips. Want to try out a new activity with people in the community? Try looking around on Meetup.com for local groups that already meet regularly. Are you single? Try a dating app like Coffee Meets Bagel. Knowing there's a cute guy or girl waiting out there might be the motivation you need to get out of your hotel room.
Volunteer
If you're spending most of your time in your new city working, you might not be in the mood to devote your free time to working too, but I promise you it can be worth it. Last year I studied abroad with Go Abroad China which was a huge challenge for me. I chose to devote some of my free time to volunteering. Not only did it give me the opportunity to help others, it also introduced me to some other like-minded people that have remained my friends to this day.
Don't Forget to Follow Up
You know how they always tell you to follow up after a job interview to make yourself stand out? Well, the same rule applies to making friends. Following up is an easy way to build a relationship with someone new, but it is something that few people actually take the time to do. Good follow-up elevates you above 95 percent of your peers and all it takes is a simple text or email.
Use Your Introvert Skillset
Being an introvert isn't just a social hindrance, it actually gives you certain advantages to making friends if you know how to leverage them. Introverts tend to be better listeners and are good at processing the ideas and emotions of others. Extroverted people love to talk about themselves, so why wouldn't an extrovert want to hang out with someone who is happy to listen? Harness your listening skills and use them make others feel more appreciated and comfortable.
Listen To Your Needs
It's okay to want to be alone some nights. Be honest with yourself. If you need a night to watch pay-per-view and order room service for one, then do it. Just don't let yourself make it a habit. Use your alone time to recharge and use that energy to put yourself out there the next night.
Buck Up, Introvert!
Being an introvert is fine, but letting your social anxiety keep you from experiencing life to its fullest is not. I hope my advice inspires you to put yourself out there the next time you travel with Creative Lodging Solutions.
Are you an introvert who's found a trick to making friends away from home? Share your story in the comments!
About the Author
Carly Smith has been traveling to Europe since she was a kid. Wanting to experience something out of her comfort zone, she recently returned home from a semester abroad with Go Abroad China at Fudan University in Shanghai. She is now back home in Oregon working on her degree in Journalism and can't wait to see where she ends up next. Follow her on twitter @carlyabroad